I very much enjoyed a talk given by Roger Law in aid of the Wells United Charities, in Norfolk this week.  Law, as one half of Luck & Flaw created the fantastically satirical Spitting Image for television in the 1980s & 90s.  He brought along one of his brilliantly-crafted Margaret Thatcher puppets (in all they made over 2,000 different puppets all by hand):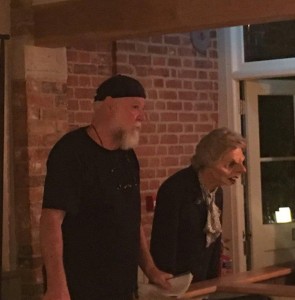 However Law always made ceramics on the side (remember the 'ugly' mugs of politicians and royalty?) and what was most interesting was hearing him describe his recent experiences making pots in China.  These 3mm thick vessels are carved deeply into the surface by the artist with beautiful images of flora and fauna, seen during the time he was artist in residence at the National Art School, Sydney.  In fact he says he often had to reassure his Chinese assistants that such creatures as mudskippers really do exist!
Roger Law is a remarkable draughtsman and his talk was illustrated with his own sketches to illustrate the processes of making and the characters he encountered in Jingdezhen, a city famous for porcelain.  Here he is able to work with highly skilled specialists and as he says, it was "very good to learn to fail, which was impossible in the UK".  Experimentation is difficult in the UK due to the high overheads in the industrial potteries meaning commercial interests must take precedence.
This is his postcard-sized work of art created for my recent Secret Postcards project, in aid of the Maltings, Wells-next-the-Sea.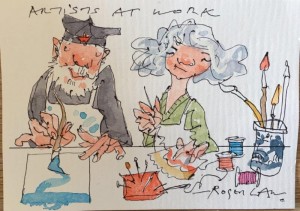 Ninety-nine artists from across East Anglia produced a total of 123 miniature (6x4inch) paintings which we sold at a fundraiser on 6 October at Holkham Hall for £60 each.  This event raised in excess of £30K.  I worked on this project for many months and was incredibly touched by the generosity of all the participating artists including the hard work which had clearly gone into each and every card – the beauty and sheer high quality, they truly were miniature masterpieces.  Thank you again to Roger Law.