CONNECTION : OPEN 2018  – Celebrating the best East Anglian art to launch Wells Maltings Art Space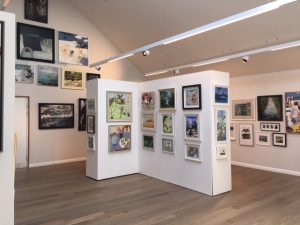 The Open exhibition I have curated is now up and running, the first exhibition in the new Handa Gallery at Wells Maltings, Norfolk.  Runs to 30 September, free entry, open every day.  Come and see a wide variety of 2-D work from artists with connections to Norfolk, Suffolk, Cambridge and Essex.
With thanks to my fellow selectors : artist & art tutor Tracey Ross, Veronica Sekules of the Groundwork Gallery Kings Lynn and Simon Daykin General Manager of the Maltings.
SPIRIT OF PLACE: Contemporary Landscape Art of North Norfolk

This project is about artists living and working today in North Norfolk who focus their gaze on the uniquely beautiful sea, sky and landscapes of this part of the British Isles. I am looking for artists specialising in landscape who give a contemporary twist to this traditional idiom that speaks of the unique feel of this locality. There is a charity affiliation with a percentage of profits from this project benefiting local housing and wildlife charities – Homes for Wells and Norfolk Wildlife Trust. Visit the dedicated website Spirit of Place Norfolk.
COMPUTER ART IMAGE OF THE MONTH
a column for The Chartered Institute for IT (formerly known as the British Computer Society), in conjunction with the Computer Arts Society. Each month I get to choose an image selected from the myriad of possibilities thrown up by the world of contemporary digital art. It could be a print, painting, plotter drawing or a still from animation, film, installation or web artwork – the sky's the limit! The series began with Mark Wilson in January 2011 and is ongoing.
See an archive of published articles by clicking here.
"Computer & digital art" is defined as art that cannot be created without electronic means. This includes both visual and performing arts, and it means that technology, such as computer software, the Internet, databases, wireless devices, electronic components or physical computing, has played a role in the creation of the work. This does not mean that the work itself must contain a screen, projector, embedded computer or electronic components.
Janice Sylvia Brock: My Life On Canvas
My biography of the English-born, Barbadian-resident painter is OUT NOW! published by PWP at I.B Tauris.  Click here to see pictures of the book launch opened by Sir Cliff Richard, held in Barbados in January 2014.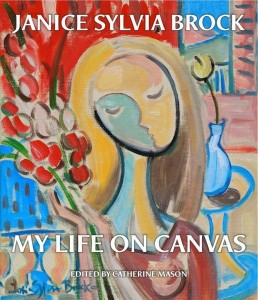 Buy the book in the UK here & in the USA here. (please email me if you would like a signed copy). Visit Janice Sylvia Brock for more info on the artist.