Bits in Motion (2006)
Bits in Motion was a film screening of early British computer animation curated and presented by Catherine Mason at the National Film Theatre, London on 7 March 2006. The screening of seminal works such as Tony Pritchett's The Flexipede, 1967 (the first computer-generated film made in Britain) was followed by a panel discussion featuring pioneering artists and a Q&A session with the audience. An illustrated catalogue and programme notes was produced. Funding was gratefully received from LCACE – London Centre for Arts and Cultural Exchange and was held in conjunction with Birkbeck, University of London and the Computer Arts Society.
Photos of the event here:
A catalogue of the event can be found on the Papers & Texts page.
CACHe Project (2002-2006)
CACHe (Computer Arts, Contexts, Histories, etc) was a research project in the Department of History of Art and Screen Media at Birkbeck, University of London supported by the Arts and Humanities Research Council.  The team included Dr Charlie Gere as Project Leader, artist and writer Paul Brown as Senior Research Fellow, Dr Nick Lambert as Research Fellow and Catherine Mason.  The team were charged with the investigation of the history of computer arts in Britain from its origins circa 1960 to 1980.  The findings of this research are detailed in the two major outcomes of the project, the books – A Computer in the Art Room by Catherine Mason and White Heat, Cold Logic edited by the team and published by MIT Press. Read reviews of the book here.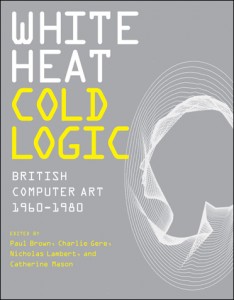 Other outcomes included the donation of two important archives of computer art to the Victoria & Albert Museum, the re-formation of the Computer Arts Society and the editing of CAS's bulletin PAGE issue no 62, describing the work of CACHe.  In addition Catherine Mason and Paul Brown co-edited a special issue of Leonardo Electronic Almanac Re:Searching Our Origins in April 2005, which addressed the writing of histories of digital practice.
CACHe Project Special Issue of PAGE can be found on the Papers & Texts page.