A marvellous new exhibition of around 80 pen & ink drawings, watercolours and gouaches has just opened at Modern Art Oxford. These rarely seen works on paper, borrowed from private collections and mostly regional museums (no doubt where much of it has been residing in storage for many years), demonstrate Sutherland's almost obsessive drive to paint his subject the English and Welsh landscape, over and over again each time capturing something new  a subtle change in form, or light or colour. Sutherland's post-war thorn cross & head paintings, his giant tapestry at Coventry Cathedral are well-known, but in this show we see a quieter side to him and through careful curation are able to learn about his working methods.
The exhibition has been selected and curated by George Shaw a painter whose own work centers on depictions of Tile Hill, a post-war council housing estate on the south side of Coventry where he grew up (and in my opinion, the artist who should have won the Turner Prize this year). By reconsidering Sutherland through this painter's eyes we also understand more about where Shaw is coming from in his own work, which uses hobby Humbrol paints to talk about his sense of memory and loss within decaying suburbia  a place with nothing but recent history. Shaw says, 'It is not about place  it is quite abstract. The painting is of how far away you are from there. It is a tethering so you know how far you've come.' [quote from Daily Telegraph Review, 3/12/11, p.7]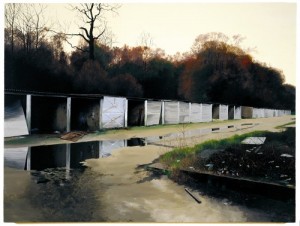 All of this raises interesting and timely debates around a sense of place. According to Shaw, Sutherland was an artist as much rooted in the past as in the world before him  a world forever unfinished. Shaw's world is also unfinished (he is now nearing his 180th painting of Tile Hill). He uses his place  Tile Hill as his device on which to hang timeless painterly concerns, and so doing he tells us something of the anxieties of 21st century living.
GRAHAM SUTHERLAND, AN UNFINISHED WORLD until 18 March 2012
George Shaw I Woz Ere at the Herbert Gallery until 11 March 2012