above statement by Wilfred Owen, the greatest First World War poet.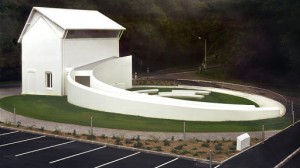 In honour of Remembrance Sunday, here is the Foresters' House in Northern France where British poet & soldier Wilfred Owen wrote his last letter home (sheltering in the cellar) before he was killed in 1918 aged just 25. The modest farmhouse has been transformed by British artist Simon Patterson (renowned for his artwork The Great Bear, a re-working of the London Underground Map). It is certainly not a typical War memorial, rather a particularly potent example of what can happen when artists get involved with such projects. The house has become a sculpture, incorporating sound (the reading of poems & letters) and visuals (engravings of poems & text) with light.
Some (including Owen's nephew and the W Owen Association) were initially concerned about the proposal believing that the original house would be ruined. Now, with the house transformed, they say it maintains its architectural integrity and, perhaps more importantly, has highlighted Owen's poetry, making it more accessible. Very surprising and beautiful; moving are some of the comments from locals, heard in an excellent BBC Radio 4 documentary.